Los Angeles Airport (LAX) Terminals

Los Angeles airport known as LAX was designed in U shape called a "horseshoe" and got nine passenger terminals. Terminals 5, 6, 7, and 8 are all attached airside via an underground tunnel between Terminals 5 and 6 and above-ground walkways between Terminals 6, 7, and 8.that allow connecting travelers to access other terminals without having to re-clear through security.

LAX is undergoing an amazing renovations, so please plan ahead and leave early. In May 2017 Delta (previously used terminal 5) moved the operation to Terminals 2 and 3, and other airlines such as Avianca, Hainan and Qatar moved to different terminals like Tom Bradley International, Terminal 5 and Terminal 6. Before you fly make sure to check out terminal assignments and you know what terminal you will be leaving from.
LAX Terminal Map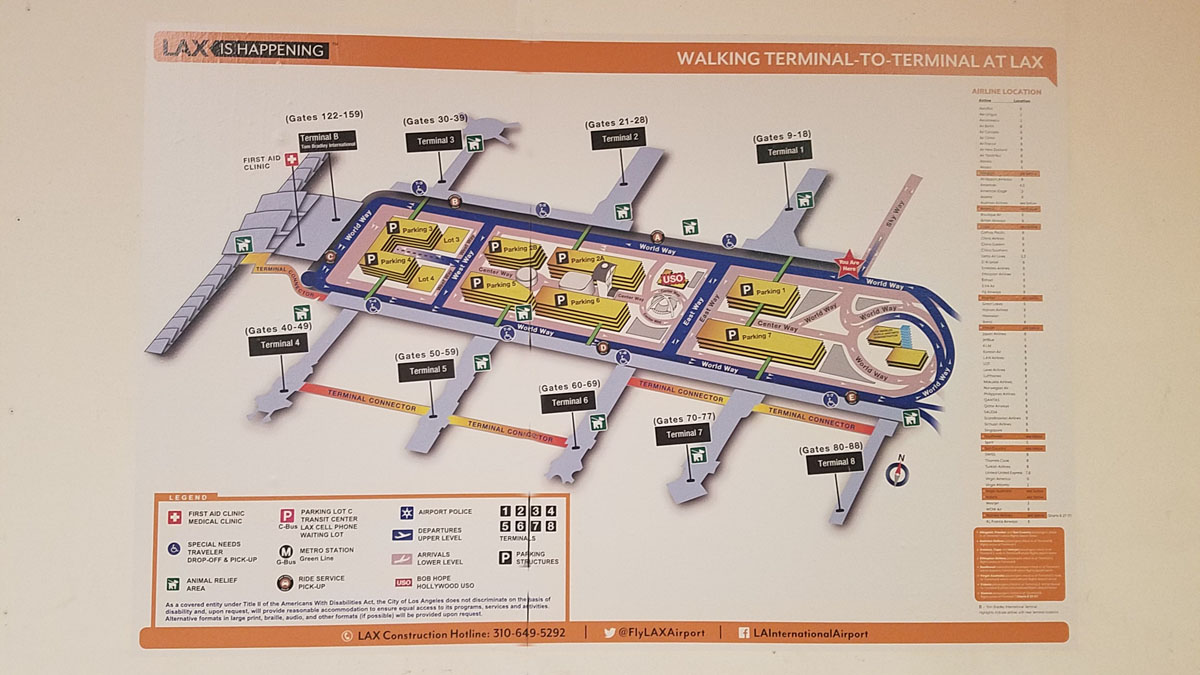 Terminal 1
AirTran Airways, Southwest Airlines, and US Airways. AirTran Airways moved from Terminal 3 to Terminal 1 to merge operations with Southwest. Since Feb 2014 US Airways agreed to move its operations to Terminal 3, giving back Southwest terminal.

Terminal 2
Terminal 2 hosts most foreign airlines not using the TBIT along with a couple of domestic airlines: Delta, Aeroméxico, Air Canada, Air China, Air France, Avianca, KLM, Air New Zealand, Alitalia, Hawaiian Airlines, Sun Country Airlines, Virgin Atlantic, Volaris, and WestJet. Former tenants of the terminal include Northwest Airlines, Pan American World Airways, and Taca International Airlines.

Terminal 3
Terminal 3 is served by Delta and low cost carrier Spirit Airlines.
Allegiant Air, Frontier Airlines, JetBlue, Spirit Airlines, Virgin Australia, and Virgin America use Terminal 3.

Tom Bradley International Terminal
Tom Bradleywas the first African-American who served 20 years as mayor of Los Angeles, and champion of LAX. The terminal is between Terminals 3 and 4 located at the west end of the passenger terminal area. Tom Bradley International Terminal hosts 27 airlines and handles around 10 million passengers annually.
Tom Bradley International Terminal at Los Angeles International Airport hosts Aeroflot, Air Berlin, Air Pacific, Air Tahiti Nui, Alaska Airlines, All Nippon Airways, Asiana Airlines, British Airways, Cathay Pacific Airways, China Airlines, China Eastern, China Southern, Copa Airlines, El Al Israel Airlines, Emirates, EVA Air, Iberia Airlines, Japan Airlines, Korean Airlines, LAN (Chile), LAN (Peru), Lufthansa, Malaysia Airline, Mexicana Airlines, Philippine Airlines, Qantas, Singapore Airlines, Swiss International Air Lines, Thai Airways, and Turkish Airlines.
Los Angeles airport (LAX) connects 87 domestic and 69 international destinations in North America, Latin America, Europe, the Middle East, Asia, and Oceania. Its most prominent airlines are United Airlines, American Airlinesand Southwest Airlines. Other airlines with a presence on a lesser scale include Delta Air Lines and Alaska Airlines.

Terminal 4
It is home for American Airlines, which operates its West Coast hub at the airport, and for its subsidiary commuter carrier, American Eagle Airlines. American is the only tenant at T4, other than daily Qantas departure to Brisbane.

Terminal 5
Many airlines are operating in LAX Terminal 5
Northwest Airlines moved all operations to Terminal 5 and Terminal 6

Terminal 6
Both United and Alaska airlines operate lounges in Terminal 6. This terminal also is hosting Copa airlines and great lakes.

Terminal 7 & Terminal 8
Terminal 7 is the home to United Airlines. The terminal also contains a United Club and International First Class Lounge.

Los Angeles Airport (LAX) Parking:
LAX has Parking lot close to each terminal, an Economy Parking lot, and a Cell Phone Waiting Lot. Terminal Parking is primarily for pick up and drop off, although longer term parking is also available. Conveniently located for the terminals, it is a more expensive longer-term option.The Economy Parking Lot is a cheaper option for daily and long term parking.
Nearly 8,000 parking stalls are available in eight parking structures located opposite the roadways from the passenger terminals. Parking is available for extended stays and overnight trips.
LAX Parking Map