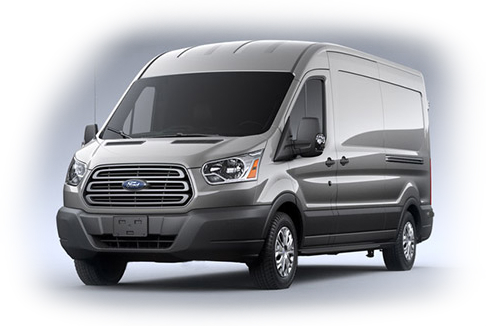 Cargo Van Standard Equipment (2018):
Ford Transit Van 2017-2018 is an all-new model that offers many configuration including low and high roofs. The wonderful Transit-250 is the roomy cargo transit van with everything you expect from Ford, with impressive payload and strong towing capacities.
The standard roof cargo van rental cost include 150 free miles per day within California, Nevada, Arizona and Utah. Additinal mileage rate is $0.35 per mile.
This vehicle may be available at other locations such as Hollywood, Downtown LA, Santa Monica and Beverly Hills.


For more picture of Ford Transit Cargo Van 2017-2018 check the fleet page.
There are low and high roof transit cargo van XLT available, if you need larger cargo van, please contact us for the availibilty and the rate will be $125/day for the high roof transit van.
3 days rentals or less may be at a higher daily rate and subject to limited availability and cannot be confirmed more than 7 days in advance.
Fuel Capacity
25 gallons

Wheelbase
130" – 148" (150, 250 SRW)

Maximum Payload
4,650 lbs. (148" ext. Van 350HD with 3.5L)

Maximum GVWR
10,360 lbs. (350HD DRW)
Engine: V8, 5.4 Liter
Transmission: Automatic
Drivetrain: RWD
Braking and Traction: ABS (4-Wheel)

Comfort and Convenience:
Air Conditioning, Front & Rear
Power Windows
Power Door

Steering: Power Steering - Tilt Wheel
Safety and Security: Dual Air Bags
Seats: 2 seat/passenger + 18 Suitcase (estimated)
Entertainment: AM/FM Stereo CD (Single Disc)
Other Choices
* Rates are subject to change